---
PRODUCT INFO
THE TORQUE IS ALL ABOUT RIDING BOLD, IT RAISES THE BAR FOR SOLID EDGING, EASE OF LOADING, POWER RETENTION AND THE ALL IMPORTANT POP FACTOR.
For aggressive freestyle it delivers explosive performance with great flex and hold to stick your landings. Without compromising the smooth performance for freeriding, it's fast and responsive.
The Torque carries the optimum width from the center to the tips, the square tip outline allows for straighter rails that have more surface area to load up against for an insane pop experience, whether you ride with boots or straps.
The medium flex and rocker is a combination of the best of both worlds; soft landing and great upwind drive. A precisely tuned quad concave hull combats chop and projects from wave kickers. The stability and predictability of the Torque means it has never been so easy to boost high and progress with even the most advanced tricks - all the features needed for maximum performance, go send it and see!
128 X 38 CM /
 

131 X 39 CM /134 X 40 CM /

 

136 X 41 CM /138 X 42 CM /

 

140 X 43 CM
RANGE OF USE
Price includes foot pads and straps
SUGGESTED SIZE & RIDER WEIGHT RANGE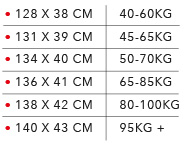 ​
Size and weight range is indicative only based on normal riding conditions. Actual range will vary based on rider preference, skill level and strength of wind.
---
" data-opinew-shop-id="9632216" data-shop-url="www.stonker.com.au" data-platform-product-id="2192698474607">